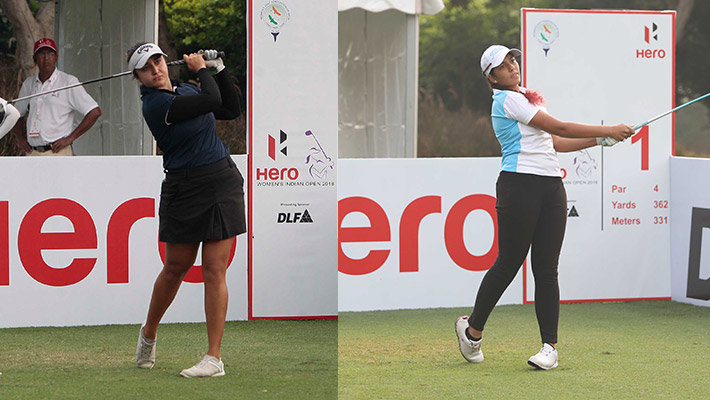 Indian golfers start well; Ridhima shines in second outing as pro to lie 5th; Gaurika 11th at Hero Women's Indian Open 2018
Gurugram (India), October 18, 2018: Ridhima Dilawari, just 20, and playing only her second event as a professional, was the toast of the Indian contingent, when she returned a card of 3-under 69 to be placed T-5th in the first round of the Hero Women's Indian Open 2018. She is three behind leader, Norwegian Tonje Daffinrud (66).

Dilawari, who as an amateur played at Asian Games in September, turned pro three weeks ago and played just one event on the domestic Tour. She led for two days but ended T-4th on the third and final day.

With three birdies in last four holes, including the tough 18th, Ridhima was the best Indian, while Gaurika Bishnoi, playing on her home course, capitalized on a lucky bounce on the rocky 17th hole en route to 1-under 71 card. Gaurika was T-11th, while three other Indians, including local amateur Sifat Sagoo, Tvesa Malik and Afshan Fatima, were T-18 with 72 each.

Ridhima said, "I was in college until recently. I was studying in US (Columbia) but decided to give golf a 100% because it's what I think I want to do in life. I want to give a couple of years only to golf and see how it goes; not balancing anything currently. Just playing golf."

Ridhima also revealed, "Until I turned pro, I didn't play here at all. DGC is my home club. Because DLF allows all women professionals to play and practice here, so over the past three weeks I have been coming here more often."

Talking of her Asian Games experience, she added, "Asian Games was an amazing experience. Just to be in that atmosphere, you feel so proud to represent your country."

After being 1-under through 13, she bogeyed 14th, but had three birdies on last four holes. "That bogey was pretty stupid. I 3-putted. I hit 16 greens, so that was pretty solid," she added. "I feel on this course if you let up even once, this course is not very forgiving. So I felt I was very good with just being 100% committed to every shot."

While Ridhima has decided to put college on the backburner, the economics degree student, Gaurika, divides her time between golf and academics.

She also benefitted from a nice thick slice of luck. She smiled and said, "This course owes me a few. So, it was nice to get that slice of luck for a birdie (on 17th), when it could easily have been a bogey or worse."

Sitting at even par after a birdie on 16th, Gaurika's approach shot on the 17th ricocheted off a wall of boulders to the left and then deflected from a large stone on the right side of the green and rolled to five feet past the flag. She made the birdie putt to get to one-under-par.

She said, "The 17th hole unfortunately wasn't recorded on the television, but it was a shot worth recording. I did my yardages wrong, I was supposed to subtract but I added and I hit my pitching wedge for a 110 but it was actually a 100 yards. I was extremely lucky."

Vani Kapoor had a disappointing 5-over 77 that left her a lot of work to do to make the cut, which will be applied at the end of the second day.