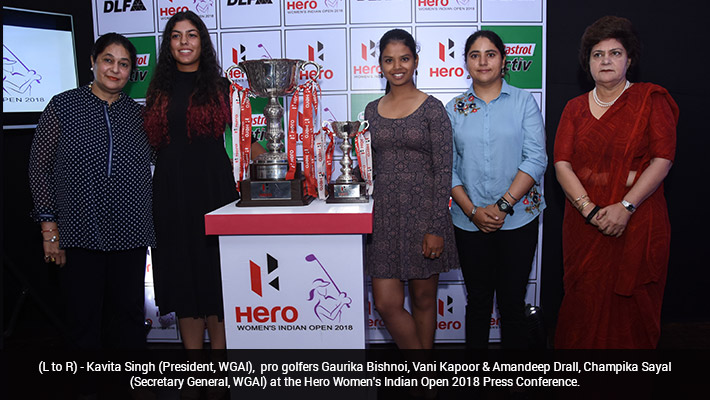 HERO WOMEN'S INDIAN OPEN 2018 TO BE BIGGER THAN EVER BEFORE
• Record prize purse of Half-a-Million US$
• First-time ever - Live coverage on TV over all four days
• First-time ever - Tournament to be played over 72 holes
• Defending champion Camille Chevalier set to return along with a strong field of international players – 11 out of 20 LET OOM players
New Delhi, September 25, 2018: The Hero Women's Indian Open is set to return for its 12th edition with as many as 120 players from over 30 countries vying for the coveted trophy and the highest-ever prize purse of US $500,000.

To be held at the Gary Player layout of the DLF Golf and Country Club in Gurugram from October 18-21, 2018, the tournament will witness the defending champion Camille Chevalier of France trying to extend her hold over the Trophy from a strong field of international and Indian players.

The Hero Women's Indian Open (HWIO) 2018 will set a host of new landmarks – starting with the prize money that touches a record half a million dollars (US $500,000) for the first time, making HWIO the second richest golf tournament in the country after the men's Hero Indian Open. The prize money gets a 25 per cent increase over 2017 and a five-fold increase from its inaugural edition in 2007. For the first time, the Tournament will be contested over 72 holes and telecast Live over all four days, a significant landmark for Indian women's Golf.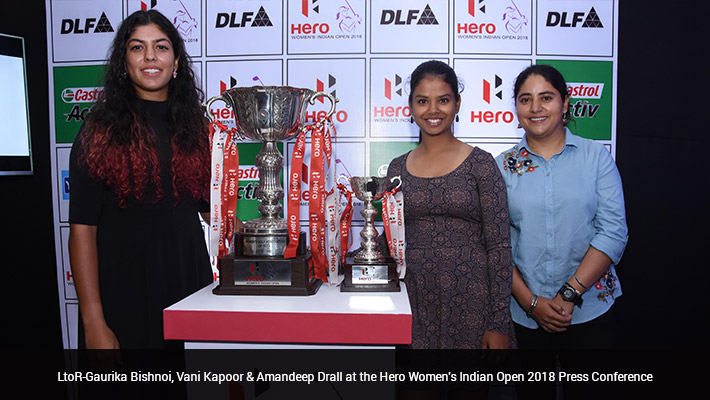 Vani Kapoor, who finished a career-best tied-sixth in the previous edition, will be leading the Indian challenge. Amongst other top Indians is the current Hero Women's Pro Golf Tour Order of Merit leader - Tvesa Malik, along with Amandeep Drall, and Gursimar Badwal among others.

The international players include defending champion Camille Chevalier, former champion Swedish Caroline Hedwall, who also won the Lacoste Ladies Open de France earlier this month, Beth Allen - the 2016 LET Order of Merit winner, Thailand's Kanyalak Preedasuttjit - winner of the Thailand Ladies Open, and Celine Boutier - winner of the Australian Ladies Classic. With over four weeks to go for the tournament, the field is expected to grow stronger as more entries are still coming in.

Currently, 11 of the top-20 players on the LET OOM have entered the tournament, which is already higher than previous years. There are 9 tournament winners in the field, which includes the 2016 winner of the LET OOM.

Hosting the Hero Women's Indian Open for the fourth year in succession will be the challenging and picturesque Gary Player layout at the DLF Golf and Country Club, which is often referred to as the home course for the women's Golf in India.

Mr. Pawan Munjal, Chairman, Managing Director and Chief Executive Officer, Hero MotoCorp, said, "As a long-term sponsor of Golf across the world, it gives me great joy and satisfaction to see this sport take giant strides in India. The Hero Women's Indian Open has evolved into a sought after event over the past decade and still continues to grow stronger with each passing year. Tournaments such as these inspire young girls to take up the sport as a career. As this tournament continues to get more prominence, so will the young Indian players. I wish the organizers the best of luck and look forward to yet another successful edition of the tournament."

Mrs Kavita Singh, President, WGAI, said, "The Women's Golf Association of India, with the support of our title sponsor, Hero MotoCorp, is proud to stage the 12th edition of the Hero Women's Indian Open. This year will see an increase in prize money to US $ 500,000 and also see the tournament being telecast Live for the first time. This will no doubt showcase the growing strength of Indian women's professional golf to a worldwide audience. It is with the help of our sponsors and well wishers that the WGAI continues to grow from strength to strength. On behalf of WGAI, I would like to express my sincere thanks to Hero MotoCorp and the Ladies European Tour for their continuous support."

Mark Lichtenhein, Chairman, LET, said, "We are delighted that the Hero Women's Indian Open will hit new heights this year with a boosted prize fund of $500,000 and four days of Live television coverage. The Ladies European Tour has sanctioned the tournament since 2010 and we are always excited to return to this vibrant country to inspire the next generation of young Indian stars. We are lucky to have a great partner in Hero MotoCorp, whose commitment to the growth of the tournament will set new standards for professional women's golf."