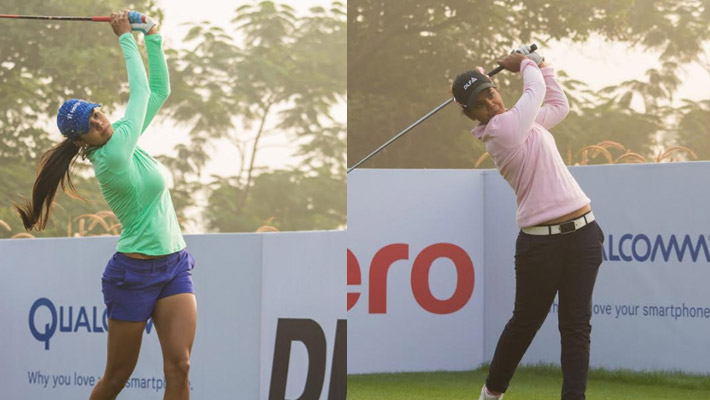 Vani, Sharmila will join Aditi as Indian women's golf gains more attention
NEW DELHI, NOVEMBER 9: The small-built but bubbly Vani Kapoor making her seventh appearance at the Hero Women's Indian Open is keen to set a record or two straight at the upcoming event, which tees off on Friday morning. Vani, who is 23 years of age, but has already been a pro for five years, is playing at her home course, so she reckons she knows a thing or two more.
"This will be my fifth appearance as a pro and my game is shaping well. I have played a lot this year and on different courses and different countries, so I am confident. This is my home course and I really want to do well," she said. Coach Anitya Chand, who teaches at the DLF Golf Country Club's state-of-the-art Academy, will be dividing his time between watching his ward and also managing the event.

On the home Tour, Vani has been very successful winning four events, including the last one at DLF, so she should feel at 'home'.

While there has been considerable focus on defending champion, Aditi Ashok, Vani despite being hugely popular at the DLF, is enjoying being under the radar, as it takes the pressure off. "This is a great course and I love playing it, so hopefully I should do well. My best has been T-20, so I am really keen to have a better show." Another player, who has been maintaining a low profile is Sharmila Nicollet. Often the centre all attraction, Sharmila, who was hugely successful on domestic Tour before she qualified for the Ladies European Tour, has not been able to do justice to the talent she showed early as a pro.

She lost her card on the LET, but did get a few entries off-and-on. She used her time well to base herself in Orlando and train with her coach, Gary Gilchrist. "I have spent a lot of time away from home and been totally focused on golf. I have put in a lot of hard work after being out of the picture because of injury and loss of form. But now I am comfortable with my game and am in a better frame of mind," said the ever-smiling Sharmila, who played her Pro-Am alongside cricketer-turned commentator, Murali Karthik.
Aditi Ashok played her Pro-Am with two other cricketers Madan Lal, a former pace bowler and Nikhil Chopra, a former India spinner. The third amateur was Sameer Sawhney. Smriti Mehra, a pioneer and a pillar for women's golf in India, has had a Top-10 finish in the past and will look to give the younger girls a run for their money. It would just be a matter of finding the rhythm and she could simply reel in birdies and make a bid for a good finish.

This week also gives other Indians like Gaurika Bishnoi, who has made rapid strides this season on the Hero WPGT domestic Tour, to showcase her talent. She is leading the Order of Merit at home and is confident of a good showing at her home course. The prize at the Pro-Am was a good confidence booster.

Amandeep Drall, Gursimar Badwal, Neha Tripathi, Saaniya Sharma and Tvesa Malik and others, who have played enough on the domestic Tour will also look to making a mark at what is the region's biggest women's pro event.